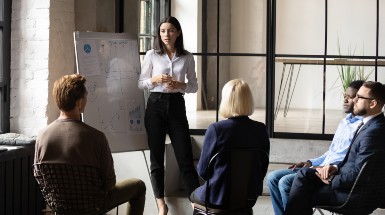 Course information
Mental Health Awareness for Managers – Learn how to support Your Team

1 in 4 of us struggle with poor mental health in any year

Source Mind UK – Leading Mental Health Charity

Mental health concerns are common in the workplace – on average 1 in every 6 employees will be experiencing a mental health concern at any one time

Source Mental Health First Aid

Healthy and engaged teams produce a 21% increase in productivity

Source Gallup – Global HR advisory firm – survey conducted in 2019

Mental Health provision for everyone is in crisis.  People generally want to reach out for help, however, taking that initial step can be very hard.  As Managers and Team Leaders, we need to be more able to help our teams access the right help.  Factors affecting Mental Health can come in the shape of family problems, health problems, life-stages (such as moving home and menopause), life-events (such as COVID 19 and changes at work) and financial pressures.
Want us to bring the training to you?
If we don't have dates suitable for you at our training centre then we can bring the training to your workplace.
This training can be delivered Virtually via Zoom or Face to Face
Contact us on 02920 576883 or email admin@ajuda.org.uk
OBJECTIVE
An awareness and engagement course that aims to empower delegates to increase understanding and promote the importance of Mental Health support for Your Team.

 
INTERACTION AND ACTIVITIES
5 interactive exercises (video clips, group discussions and Mental Health in the Workplace Quiz)

2 group activities (Starting Supportive Conversations and Accessing Help within Your Organisation)

Happiness Homework

 
OUTCOMES
After attending this course, delegates will be able to:

 
Engage with the importance of Mental Health Awareness within your organisation
Recognise the signs and symptoms of common mental health concerns in the workplace
Feel more equipped to start Wellbeing Conversations
Understand the impact that the pandemic has had upon our own Resilience and how we can build upon that
Learn more about what help and resources are available, how you can help your teams and what your organisation can do to support
 

ALL TRAINING MATERIALS AND INSTRUCTIONS WILL BE PROVIDED
Key Facts
Duration: 1 Day
Group Price (up to 12): £1,300