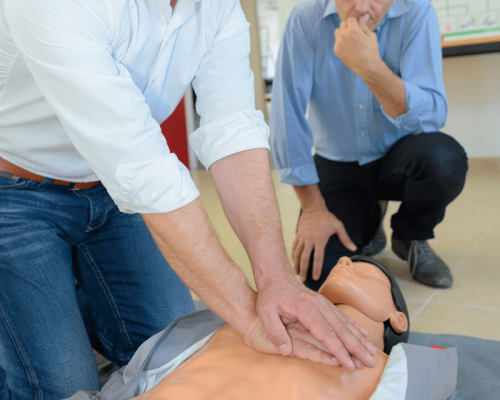 The office can seem like a safe place to work, but, there are risks you wouldn't think of until they happen. An accident can occur at any time and if it did, who in the workplace is trained to help? It is a legal requirement as a company to ensure your employees receive immediate attention. Here are 10 reasons why you should consider First Aid Training for employees.
1. It can save lives
This may seem like the most obvious reason, but it is proved that first aid saves lives. If there is an accident in the office is anyone trained to come to the rescue? First aid training gives your staff the confidence and ability to react immediately to an incident, injury or illness. CPR (Cardiopulmonary Resuscitation) has been reported that many lives have been saved due to fast reaction CPR. This would have been given during critical and life-threatening accidents, injuries or health complications in the workplace.
2. Reduce the number of workplace accidents
First aid training helps employees learn to be more conscious of safety in the workplace, leading to a reduced number of accidents and injuries. Minimizing risk to workers and decreasing workplace incidents is a benefit to everyone, but for employers it has implications within all aspects of business operations. All employees become more safety aware, helping to bring down the number of accidents.
3. Positive work environment
By making first aid training available to employees, employers can show their workforce that they care about providing a safe work environment. First aid training provided in the workplace can even be used as an excellent team-building exercise and morale booster. Employee morale is an integral part of any company. High morale leads to positive attitudes and positive attitudes lead to positive results. The happiness and wellbeing of your employees will help you build a strong relationship, ultimately resulting in a better working environment. First aid training will help ensure employee health and safety in addition to enhanced wellbeing and morale.
4. Your company will be safer place to work
Many large companies give first aid as part of employee training; this is a very wise option because it guarantees they can all look out for one another. If an accident happens at work; employees may be able to prevent further injury to the victim of the accident. First aid courses in the work place promote safer practise amongst employees.
5. First aid kits are used properly
Not only will your employees know exactly what should be in the first aid kit and be able to maintain it properly, they'll be able to use them effectively in an emergency. They will know where to access it quickly – again saving time and reducing the impact of the illness or injury. First aid trainees know exactly what's in their first aid kits, how to use the contents, and the various ways to react in an emergency. In a beneficial way, it makes each employee an unofficial health and safety risk manager.
6. It can reduce recovery time
Rapid reaction to illness or injury, before further aid such as an ambulance arrives can not only save lives, but in addition, will reduce recovery time of the patient. If that patient is a member of staff, that means they'll be back to work quicker, with less impact on the business.
7. It can keep employees safe outside of the workplace
It's not just in the workplace where good first aid training is paramount – employees will have those skills for life, especially if you maintain ongoing refresher courses. This means they can treat themselves, their family and friends and the public effectively in an emergency.
8. It's a great team-building exercise
When your staff get the opportunity to learn a skill together, one that will help them look after one another, it brings them closer together. Many teams have reported more awareness of their co-workers wellbeing following first aid training.
9. It gives your employees confidence and clarity during an emergency
First aid training doesn't just teach your staff how to treat patients in need of first aid, it also gives them confidence and effectively manage an emergency without fear, confusion or overwhelm.
10. The cost of a First Aid at Work Training course is nothing compared to that of potentially saving a live.
Providing first aid and CPR training doesn't cost much, but it will go a long way to ensuring workplace health and safety.

If this has given you something to think about we have many Training Courses available at Ajuda Training Academy, take a look at our course calendar, give us a call on 02920 576883, or email admin@ajuda.org.uk
Follow us on Facebook or Twitter and see our tips and advice on all things #FirstAid