On Thursday 10th October, we will be hosting Talking Mental Health National Conference, at Cardiff City Stadium.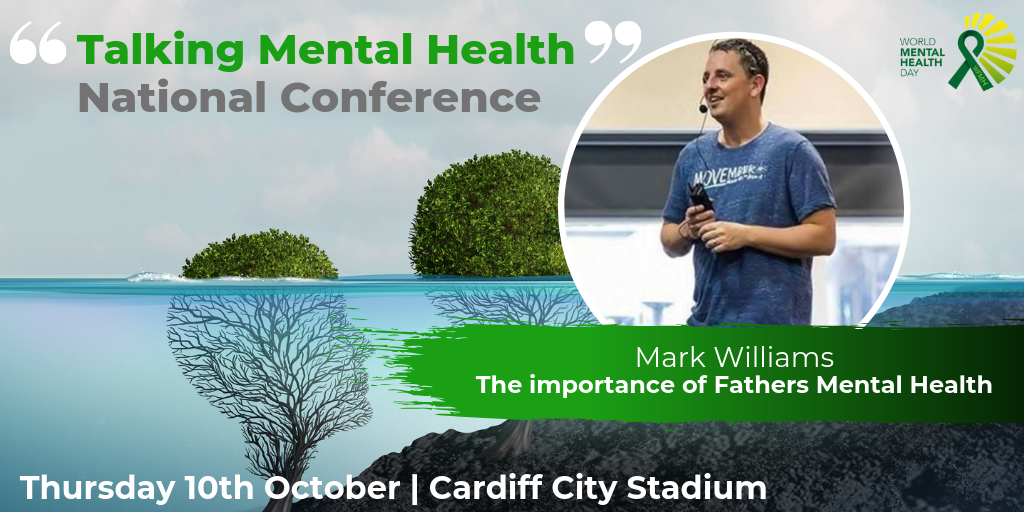 Mark Williams is one of our fantastic keynote speakers and his seminar is titled "The Importance of Fathers Mental Health"
Mark is a keynote speaker, author and International campaigner. Mark has had a journey that will inspire you and that when you are rock bottom there is only one way to go and that is up. While having speech therapy and scared to speak on his school stage, now have spoken around the World at many conferences.
Both Mark and his wife Michelle suffered crippling anxiety after the birth and Mark hit rock bottom when he began to experience suicidal thoughts. And yet the reason for the torrent of negative emotions and spiralling depression had less to do with their son than the mental health issues that were confronting them. In hindsight Mark recognises that he had experienced a condition long recognised in mothers, that of post-natal depression.
The problem at the time was that Mark felt he could not speak to anyone about his stressful condition and ultimately it led to a breakdown. There is still a stigma attaching to men admitting that they have post-natal depression and this makes them reluctant to seek help or even talk to their friends and loved ones about it.
Eventually Mark was put on medication and took a course of cognitive behavioural therapy and mindfulness which turned things around. Now Mark and Michelle are closer than ever as a couple and have a fantastic bond with their son. Mark wants to get the message out about the condition and the help available.
Perinatal mental health issues may arise in the final months of pregnancy and for up to six months after the birth. Today it is estimated that one father in three experiences post-natal depression. In Britain the estimate by the National Childbirth Trust is that 73% of new fathers worry about their partner's mental health while 38% worry about their own mental health. Mark is committed to raising awareness of mental health issues for fathers and has already spoken at over 100 conferences and events. Mark has delivered workshops and training around the UK and has recently visited Australia before taking his message to New Zealand, the USA and Canada.
He founded International Fathers Mental Health Day and #Howareyoudad campaign to make sure all parents are having support for the whole family.
Mark has spoken on television and radio stations around the world and works with Dr Jane Hanley who have both published articles on Fathers Mental Health together. Mark was awarded Inspirational father of the year and local hero at the Pride of Britain Awards in 2012 and was invited to meet The Royal Family on World Mental Health Day in 2016.
You can find out more on his website www.reachingoutpmh.co.uk
To book tickets to Talking Mental Health National Conference please visit Eventbrite here