Nowadays, around 1 in 4 people experience mental health problems. That is a good enough reason to end the stigma around it. Join us and support Time To Talk Day on 6th February 2020. Help us fight the discrimination of people touched by mental illness!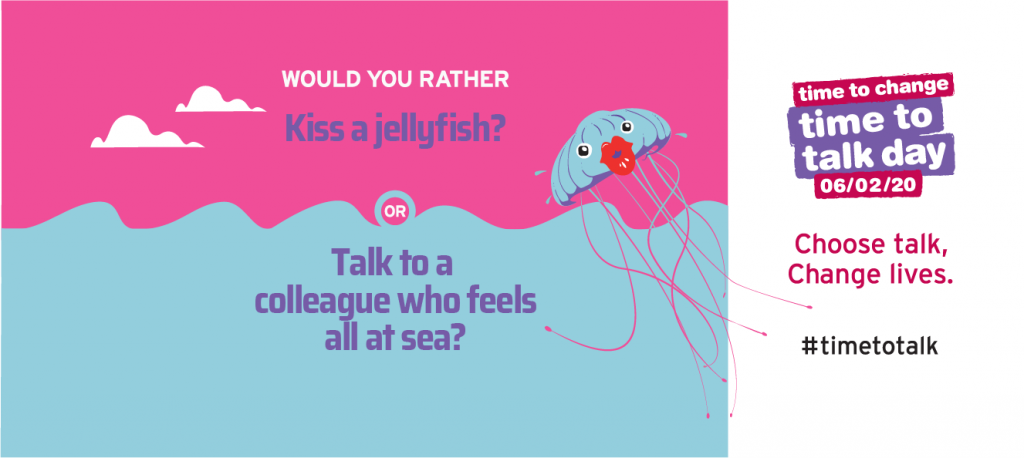 What it is all about?
This day was created to raise awareness about the mental health problems and help to end the stigma around this topic. Many people claim that that stigma and discrimination are as damaging, or more damaging, than the symptoms of their mental health problem. This year we use 'Would you rather?' game to spread the importance of conversations about the mental health. By getting people talk about it we can help break down stereotypes connected with the issue that affects us all. This day is a perfect opportunity to gather around your family and friends and encourage them to talk about their problems.
How can you help?
Did you ever think that chatting with a person who suffers from a mental illness can actually save a life? If not, it is time for you to do something about it because you can change someone's life with a short conversation. Just be there for them. Let them talk and you just listen to them.
It is often the thing that they need the most to feel valued and cared about. They need you to listen to them and not to rush them. Let them finish. Then ask some additional question to better understand how they are feeling. Help them get rid off the burden they were carrying for this whole time.
After having a conversation, try to signpost them to the closest organisation which can help them. There are some examples of support services:
Ajuda for mental health
The topic of mental health is extremally important for our company as we focus on educating people to save lives. You can save lives not only by helping people with their physical problems but most importantly you can save lives by talking with people and listening to them. This way you can help them with more complicated psychological issues.
To highlight the importance of the mental health and to increase the awareness about this topic we created a separate full-day event. Mental Health & Wellbeing Show is taking place on 21st of May 2020 in Cardiff City Stadium. This is the show dedicated to mental health and aiming to promote positive mental health through open conversation, promoting awareness and sharing real-life experiences. Our seminar speakers focus on topics such as coping with mental illness, ways to promote positive mental health, and how to support people around you who are suffering with ill mental health. Apart from the seminars, there will also be an open exhibition with over 60 charities, organisations and companies promoting their helpful resources, services and initiatives all focused on supporting mental health and wellbeing.
Find out more about the event on our website: https://www.mhwshow.co.uk/
Make a change and contribute to Time To Talk Day. Help your family and friends and think about our show. Maybe it is a good occasion to buy them a ticket for one of our seminars?