We are delighted to announce that Ajuda became the proud winners of the Veterans Business of the Year at the Welsh Veterans Awards earlier this week. The awards ceremony took place on Wednesday 26th June at the Village Hotel in Swansea, and welcomed a selection of Wales' most successful veterans for a night of celebration and recognition of their achievements. 
The Welsh Veterans Awards is an annual award ceremony in association with ABF Soldiers' Charity, a cause which our director Dawn holds very closely to her heart. Dawn served in the military for 12 years, where she gained the strength and skills she possesses today, and met her husband who also served in the military.   
On their website, the Welsh Veterans Awards announce: "In Wales, we have a huge number of highly successful Armed Forces Veterans that have made the transition from the Military to civilian life and we want to reward these veterans who have gone above and beyond and excelled in their relevant fields. They will act as role models for future service leavers."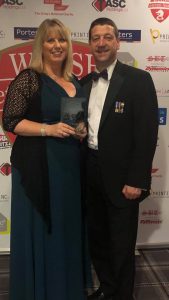 It is a huge honour for Ajuda to have been recognised among the collection of fantastic businesses and individuals who were nominated and in attendance on the night. It was amazing to be part of such an inspiring and motivating occasion, in aid of a fantastic charity, ABF Soldiers' Charity. 
This year is also very significant to the charity, as they are also celebrating 75 years in service, having been founded in 1944. The charity provide a lifetime of support to soldiers, veterans and their immediate families in a large number of ways such as financial aid, housing, elderly care, access to opportunities through training and education, along with so much more. 
Later this year, in September, Dawn and her husband will be taking on a big challenge to raise money for the ABF Soldiers' Charity. They will be climbing Mount Toubkal in Morocco, the highest mountain in North Africa. Training for the climb has been well underway for months, and now there's just two months to go!  
You can donate to Dawn and Ianto's fundraising page here: https://www.justgiving.com/companyteams/MountToubkal19 
Ajuda are also honouring the 75 year anniversary of the charity by offering all veterans 10% off any of our in-house or online courses. If you wanted to try something new and develop your skills, there's no time better! To take a look at our courses, please click the links below.