It's always an amazing feeling in the office when the Ajuda team are recognised for our efforts and achievements in educating people to save lives. So, the team are absolutely over the moon to be named as "Business of the Year 2019" at this year's Zokit Sprinconf at Cardiff City Stadium!
The annual business conference took place this year on 16th May, and is always a key date in Ajuda's calendar. With hundreds of visitors to meet and speak to, along with break-out business sessions throughout the day, it's a great way to introduce Ajuda to new potential customers.
The awards gala lunch forms a big part of the Zokit Springconf, where Welsh businesses are recognised and highlighted for their achievements over the past 12 months. The independently judged "Business of the Year" award was sponsored by A&R Group, and presented by TV presenter Ruth Wignall.
Ajuda were also selected as a finalist for the "Winning Legacy" award, which is a testament to the fantastic achievements that our small but dedicated team have worked hard for this year.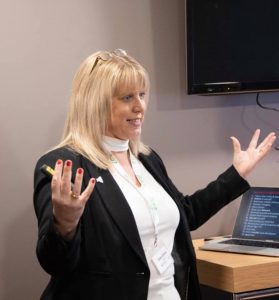 Director Dawn Evans also took time to present a session "Running a healthy and effective business", as part of the fantastic programme of talks from Wales' most successful entrepreneurs. The programme also featured inspiring talks from Paralympic gold medallist Mark Colbourne and former Wales rugby international Alix Popham,
Dawn spoke of the day: "We are thrilled and honoured to receive this award. It reflects the hard work put in by the talented team at Ajuda, who have helped the business become such a success.
Our mission is to educate people to save lives, and we'll continue to grow and give even more people those life-saving skills. It was a fantastic day, with lots of knowledge and inspiration shared by other business owners."
Ajuda would like to thank all of our staff, trainers, customers and colleagues who help us to achieve amazing results year on year. We can't wait to see what the next 12 months bring for the Ajuda team!
———
If you'd like to know more about the ways Ajuda stand out from the crowd, check out our About page for more information.
Our top-quality training courses are at the very heart of our business, and we run regular training at our Cardiff-based training academy, and also a large range of online training too.

To speak to one of our friendly and helpful staff, give our office a call on 02920 576883 or email admin@ajuda.org.uk