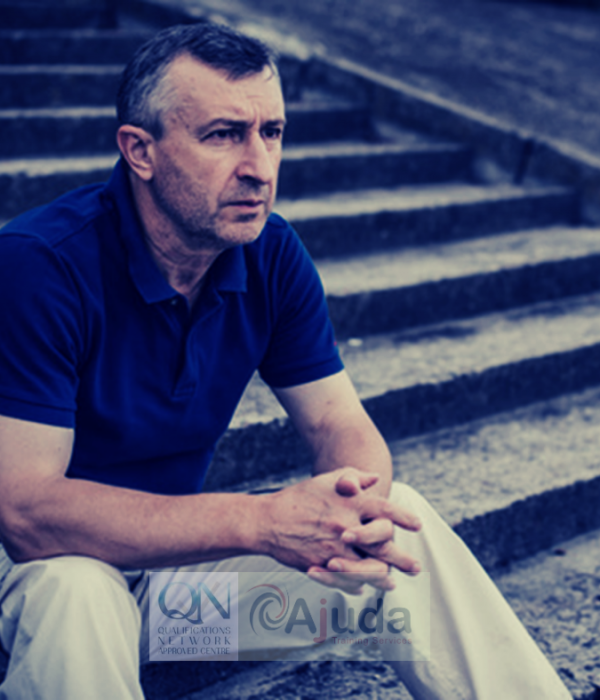 At least one in four adults experience at least one diagnosable mental health problem in any given year, and due to the pandemic, mental health issues are on the rise – especially in Wales.
Mental health issues are very common in the workplace due to work-related stress and the associated challenges and costs. Remote working, returning to work, and COVID in general, have added to these challenges, with mental health issues in Wales seemingly on the rise.
On average, every year in the UK, 70 million workdays are lost due to mental health problems; costing employers approx. £2.4 billion per year.
Now, more than ever, businesses and organisations need to understand the importance of addressing mental health in the workplace. It is their responsibility to look after their employee's health and wellness.
At Ajuda, we can deliver courses that ensure your company has a Mental Health First Aider on site; individuals who have the confidence to spot the early warning signs of mental health issues (such as depression, anxiety disorders, stress, etc.) and encourage early intervention.
So, what are the benefits of Mental Health First Aid training?
Opening Up
One of the key issues surrounding mental health is the lack of communication. Some people simply see talking about mental health issues as a taboo subject.
Overall, mental health is being talked about more and more; however, the UK has a long way to go before it opens up and starts to treat mental health the same way it treats physical health.
Investing in mental health first aid training will help your employees comfortably start a conversation and open up about their well-being.
Educate
The fundamental reason we deliver these courses is to educate. Employees will gain expertise, experience and relevant knowledge.
This will help them recognise potential triggers and early warning signs, allowing them to encourage the necessary support.
Positive Workplace Culture
Mental health first aid training will contribute towards your company building a positive and sustainable culture.
Employees on the course will be taught the importance of health and wellbeing and will gain skills in communicating empathically and positively.
Aid in Recovery
In addition to being able to spot the early warning signs and triggers, mental health first aiders will be able to help guide and support employees who are going through recovery.
Again, this benefit will boost the positive environment in your workplace.
Personal Wellness
A key aspect of any positive workplace culture is looking after one's own personal health and wellbeing.
Individuals need to understand the importance of looking after their mental health, and what to do if they experience obstacles and issues.
Overall, people being aware of the problems will reduce the negative impact of mental health issues in the workplace.
Building Resilience
Education, knowledge, and the encouragement of communication will help your employees build up their mental resilience.
This can reduce mental health-related sick days, and also help employees with their future issues.
Better Productivity
Multiple studies have shown that the better the mental health support in a workplace, the more productive it is.
Employees who feel supported, healthy and mentally resilient can concentrate and focus on tasks, and are far more confident in their roles.
Additionally, work-related stress, which negatively impacts productivity, can be avoided. 
Book onto one of our training courses and learn more about Mental Health First Aid